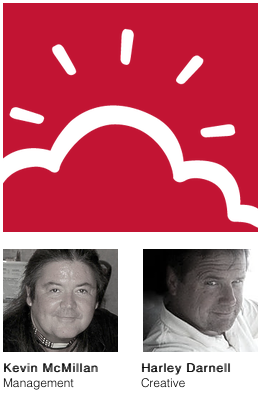 Two friends and colleagues with a drive and passion for creative design combine expertise from long individual design and corporate careers achieving a perfect blend. 
Red Sky believes this collective capability can be focused on the great surge of tribal economic development throughout Oklahoma as well as its mainstream projects. 
We're proudly 100% Native-American owned and uniquely structured to serve our wide array of clients in both mainstream and tribal arenas.
Red Sky's affiliation with tribal-friendly and experienced construction companies can make a tidy, one-stop-shop solution. From market research, product development, logo and brand identity, to business card and website design, to receiving the keys to your newly re-modeled or scratch-built facility, Red Sky can deliver to virtually whatever degree is required.
We like to say we bring "Experience Not Experiments" to the table. Each of the principals in Red Sky has a long history of groundbreaking work in real-life branding, graphic design, and construction. We also have seasoned staff and proven vendor alliances to further bolster our project work.
We at Red Sky have strong roots in building relationships with clients, making friends, delivering great work, and accomplishing great things. Let us work with you to do the same.